Studies after work
Mohamed Taha works while others sleep. Taha, originally from Sudan, is one of the many newspaper deliverers at Lounais-Suomen Tietojakelu. His typical work shift starts at 1 o'clock in the night ja ends around sun rise.
– This job suits me well. I enjoy being alone, thinking and reading. The job does not stress, Taha says.
33-year-old Taha's shift starts at a gas station in Ilponen suburb where he cycles to get the newspapers.
– Sometimes people are awake and wait for their newspaper. I feel it is important, that I can deliver their paper in time, Taha continues.
After the shift Taha, who studies to be Master of Science in Technology, studies. Later in the afternoon he sleeps.
– You have to like your job to manage it. I have a lot of audio lectures that I listen to as I ride my bike while delivering papers, Taha concludes.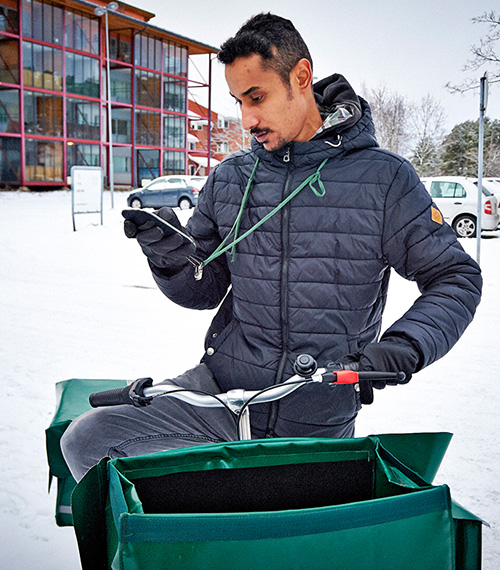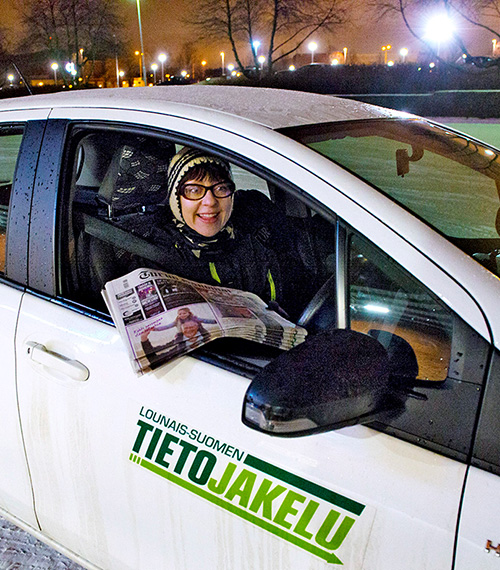 Hair dresser during days, newspaper deliverer during nights
Siru Näntö-Huhtala sounds like a real power package. During day time she works as a cosmetologist and hair dresser, and during the nights she delivers newspapers. Rest of her spare time she devotes to voluntary work.
47-year-old Näntö-Huhtala started delivering newspapers almost 20 years ago. Originally she started the job to support her business but continued it while studying. She feels that the job suits especially well for those who study, but assures the job suits despite your age. Newspaper delivery keeps all in shape.
– Job keeps you in reasonable physical shape. I deliver newspapers to various kinds and size of houses, so you don't only sit in a car, Näntö-Huhtala continues.
To coordinate two jobs can be tough, but Huhtala ensures she manages and enjoys her job.
– Sometimes the subscriber is already waiting for her paper. Then we wish each other good morning which is a really nice start for the day, Näntö-Huhtala concludes.
Extra earnings at weekends
Michelle Wilder, age 22, delivers newspapers at Parainen area. She does her route in a car. Surprisingly enough Wilders thinks one of the best parts in delivering newspapers are animals.
– I like how it is peaceful during the night and you can see a lot of animals. Once in a while I even pet cats, Wilders tells.
During her shift she has seen moose, deer, badgers and shrews. Wilders has temped since fall 2016 but she has delivered papers as a summer job during three summers.
– Work is very independent and nobody bossies you around, Wilders laughs.
Wilders, who studies English and Finnish at the university, considers the weekend job as a good source for extra earnings. During weeks she is able to concentrate on her studies. In addition, she considers the job a responsible one since you deliver newspaper as well as mail and magazines.
During a night Wilders can drive over one hundred kilometers.
– It is very important that you deliver in time and everything works flexibly.